What the beaten jockeys had to say after the two Group 1 features at Caulfield.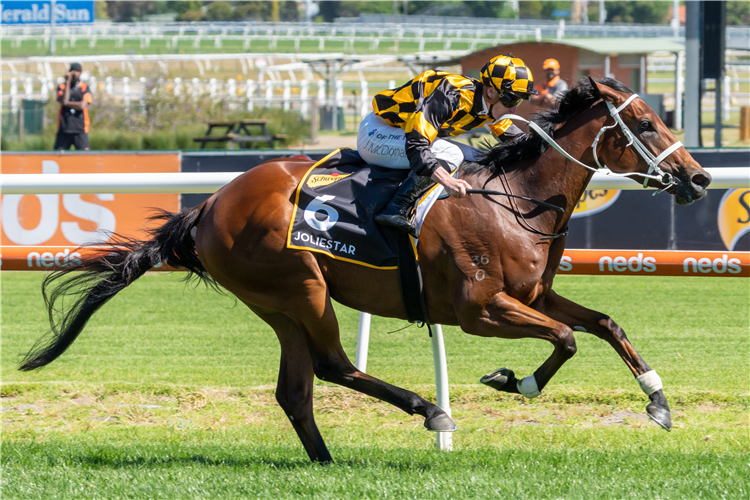 CAULIELD
Group 1 - Schweppes Thousand Guineas (3yo F SW - 1600m)
1st: Joliestar (J McDonald/C Waller) - $4.60
2nd: Kimochi (C Williams/G Portelli) - $9.50
3rd: Skybird (B Mertens/M Freedman) - $4.20
Winning Time: 1:36.81 Last 600m: N/A
Margins: 1½L x 1L
Beaten jockey comments:
Craig Williams (Kimochi): "Gary Portelli has done a great job managing this filly to get her into being a more furnished racehorse coming to the autumn. We were outsprinted by the eventual winner but she was really sold through the line. I think they've got options with distance ranges further in the autumn."
Blake Shinn (Coeur Volante): "Very happy with the run we got. Presented but maybe just didn't quite have the strength to run a strong mile. Very gallant."
Beau Mertens (Skybird): "Very proud of her. She ran a great race. Unfortunately as she deos she was a bit slow out of the barriers and put in a gallant effort. I thought at the top of the straight she was a great chance but unfortunately the way the track is playing it got her beat."
Kerrin McEvoy (Arctic Glamour): "Great run from her. It was good to see her run the mile out. We just had to come the widest on the corner to make our run which has been hard here to do today but it was pleasing to see her finish this race off."
Jamie Kah (Carina Queen): "Nice horse. She's going to win a nice race over 2000-metres."
Michael Dee (Zourion): "Ridden like that is probably not her go. She'll be better with a bit of a sit. Tried something today and it didn't work out."
Declan Bates (Vivy Air): "She's run really well. Her lack of early speed from what wide gate meant we ended up at the tail of the field and I think that cost her any chance of winning this race."
Zac Spain (Apache Song): "Got into a good spot. Travelled nice. Just when the pressure went on she got on one rein."
Jake Noonan (Enna's Dream): "I'd say she's come to the end of her preparation. She's had a great prep but she was running on empty."
Mark Zahra (Ersa): "Took a chance, rolled forward but she wasn't good enough.
Damien Oliver (Vibrant Sun): "She ran well. There was just too much pressure coming off a maiden into a Group 1 fillies race but we wanted to go forward and she wasn't capable of going forward today. Really impressed with the way she went through the line. I think she's got the makings of a nice Oaks filly in the autumn."
Billy Egan (Quickster): "She didn't do a bad job to hold her own under that sort of pressure at Group 1 level at her third start. I think she'll make a nice filly."
Group 1 - Neds Sir Rupert Clarke Stakes (3yo+ Handicap - 1400m)
1st: Magic Time (M Dee/G Begg) - $4.80 fav
2nd: I Am Me (B Shinn/C Maher & D Eustace) - $6.50
3rd: Strait Acer (M Zahra/E Cummings) - $12
Winning Time: 1:22.51 Last 600m: N/A
Margins: 1L x Neck
Beaten jockey comments:
Damien Oliver (Vilana): "He ran ok. The tempo was a bit strong for him. I think he likes it better when he can travel a bit better and find his feet."
Blake Shinn (I Am Me): "Ran absolutely phenomenal. Jumped well, we got into a good position. She was there to win. She gave me a good feel. The winner was a bit better on the day but she's up to Group 1."
Mark Zahra (Strait Acer): "DId a good job to run third. Obviously the way the track is playing, rode accordingly and a big horse, I would have liked a bit of room sooner but still he ran well under the circumstances."
Jordan Childs (Bandersnatch): "He ran as well as he could. Couldn't be going any better. Very happy with that."
Craig Williams (Skew Wiff): "Her run was excellent, like the winner's. The way the track is playing today, anything away from the rail and off the speed is a big run. We were in the three-wide line two spot off the winner. The winner was excellent and we were very good under the circumstances."
Jake Noonan (The Inferno): "Found a nice spot following the winner. Tracked up competitively from the 600 (metre mark) and gave us a good sight but just didn't let go like his best. Back to the drawing board and see how he pulls up."
Daniel Moor (Ayrton): "I ended up further back in the run than I would have liked. Obviously a race of high pressure. He had to overcome some interference. To find the line the way he did was admirable."
Beau Mertens (Zoutori): "Had the right run. Rails opened up for him if he was there to present but I didn't have the horse to take me through it."
Celine Gaudray (Buffalo River): "The wide draw did us no favours and had to do too cuh work to get there. He never relaxed."
Billy Egan (Chain Of Lightning): "Something went amiss. She how she pulls upGot hit from behind somewhere in the straight which took the wind out of him as well.
Luke Currie (Munhamek): "He ran well. He had to go right back and rode him for luck but if he drew gate he would have been thereabouts."
Jamie Kah (Cause For Concern): ""Track was just a bit form for him today."
Linda Meech (General Beau): "Just did too much work."
Daniel Stackhouse (Crosshaven): "Disappointing. He didn't stick very well. Struggled to travel off that hot speed and had to ride for a bit of luck. Bit disappointing second-up."
Dean Yendall (Wrote To Arataki): "Got a little excited at the 400 (metre mark)."