Mazu is scheduled to barrier trial at Hawkesbury with a view to running in The Hunter.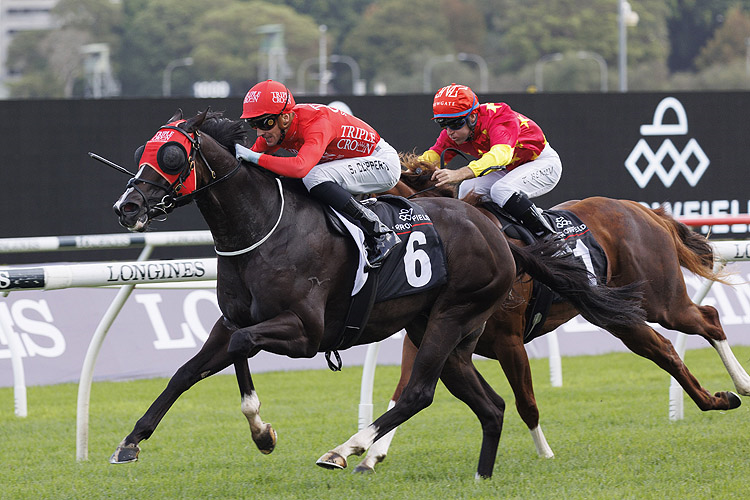 Plans to target the $1 million The Hunter with Mazu will become clearer after the sprinter steps out in a barrier trial at Hawkesbury.
Mazu is set to trial with Nash Rawiller aboard on Monday, five days before The Hunter (1300m) is held at Newcastle on Saturday.
"We've done things a bit different with him post Everest," co-trainer Paul Snowden said.
"We haven't really worked him at all. Not that he's tired or anything like that, we're just going to do something a bit different.
"We're going to trial him on Monday and pretty much that will be his gallop going into next Saturday and we'll see how he comes through that trial to see if we run him or we take him to the paddock.
"He may have a slight gear change as well. We're just playing around with a few little things with him."
Snowden trains in partnership with his father Peter who has indicated Mazu is likely to have pacifiers replaced by either a visor or nose roll in the trial in a bid to spark him up and get him back into the winner's circle soon.
Mazu has not won since last year's Group One Doomben 10,000.
This spring, the five-year-old missed a planned second-up start in the Premiere Stakes when he was found to be mildly lame on the day of that race.
He then struck interference in the straight when finishing 11th in The Everest before running fifth in the Giga Kick Stakes.
"I think he's going very well, we just haven't been afforded a great opportunity to probably produce our best our last couple of runs," Paul Snowden said.
"His first-up run was fine.
"Then we had the unfortunate thing when we missed the Premiere, not that he missed any work.
"We got on top of it pretty quickly but it was ideally not what you'd like going into an Everest and then he just got shut down at a vital stage (in The Everest) and went to the line untested.
"In the Giga Kick he was three deep, exposed, and I thought he still found the line pretty well."
Snowden said he expected Mazu to get around 59kg for The Hunter.
"That's doable," he said.
Mazu's stablemate King Of Sparta is on target for The Hunter and has been kept up to the mark with a "tick over trial" since racing wide from a deep draw and finishing midfield in the Sydney Stakes second-up.
"He's a horse that has competed at Group One level before and he'll be one of the leading chances," Snowden said.