Saturday night's Queen Of The Pacific had been a long-term goal for connections of brilliant mare Tough Tilly, but time has been called on a racetrack career that achieved dizzying heights while promoting and raising money for a vital cause.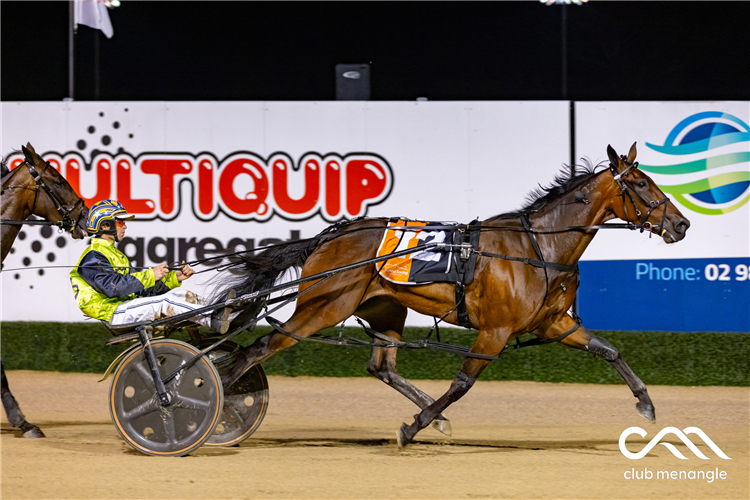 Trainer Emma Stewart confirmed that the triple Group 1 winner had been retired to stud, with plans imminent to have the five-year-old served by stallion Tall Dark Stranger.
Tough Tilly battled champion stablemate Ladies In Red throughout her career and inflicted three of that horse's six defeats, with victories in the elite-level Vicbred Super Series final as a two-year-old and APG finals as a three and four-year-old among her standout triumphs.
The daughter of Captaintreacherous was named after Tilly Wilkes, an inspirational youngster who was born with epidermolysis bullosa, a rare genetic condition that results in wounds that never heal, disfigurement, blisters, bleeding and ever-present pain.
Craig Judd, from Benstud Standardbreds, donated a 25 per cent share in Tough Tilly as part of a fundraising auction for EB Research Partnership Australia, with the winning bid going to a syndicate including Tilly's father Corey Wilkes.
And what a ride she gave them, with 17 wins and over $600,000 in prizemoney earnings.
"Obviously there is an emotional connection to the Queen Of The Pacific being a race that we've sponsored for years, so we were hoping to keep her going to there. And that was our main objective for the year, really," Judd said.
"But she'd just had enough. There was no injury, she just wasn't herself.
"I felt that she drew really badly in a couple of races and had to do a bit too much work, and I think now she's thrown the white flag up and decided she wants to be a mum."
Stewart wished a happy retirement to her "best mate Lilly".
"You have been an absolute pleasure to train and my all-time favourite. Willow (Ladies In Red) is going to miss you as much as me," she said.
"Thank you Benstud for giving me the pleasure of looking after her for all these years. You don't know how much it has meant to me.
"Enjoy the sunshine and green grass Lilly. I can't wait to see you again."
While Tough Tilly will be missing from Saturday night's Queen Of The Pacific at Melton Entertainment Park, the $150,000 Group 1 finale to the Elizabeth Clarke Mares' Triple Crown has drawn a stunning field of rivals.
Last year's winner Ladies In Red tops the series leaderboard with 13 points after her runner-up placing in The Make Mine Cullen on October 14 and her victory in the Angelique Club Pace last weekend, two clear of the Jess Tubbs-trained Rakero Rebel. Ladies In Red's stablemate Treachery (six) is the only other potential Triple Crown winner, with eight points given to the victor of Saturday night's 2760m feature.
Stewart will prepare seven of the starters in the Queen Of The Pacific – including star mares Encipher and Amore Vita - with New South Wales raider Braeview Kelly looking to spoil the party for Jason Grimson and Jack Trainor.