It's only one month since Queensland trainers Mick and Selena Zammit celebrated their greatest thrill in greyhound racing when Jay Is Jay won the Million Dollar Chase in Sydney.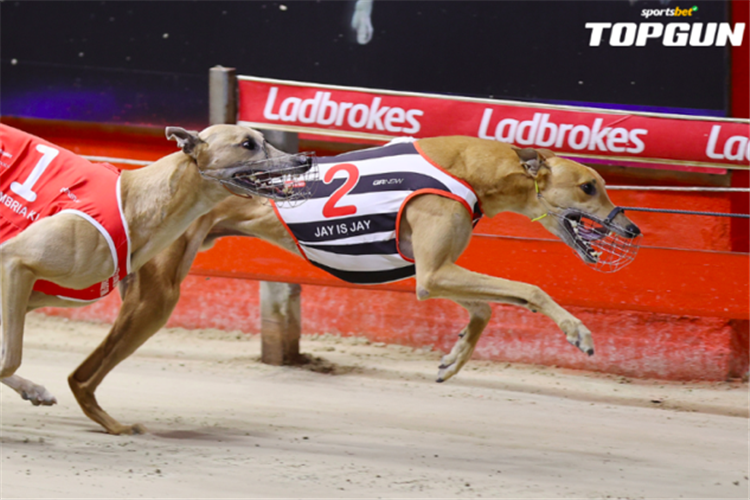 But racing stops for no one – not even millionaires – and on Saturday night at The Meadows, the Zammits and Jay Is Jay are eyeing another coveted interstate 'major', the $233,250 Group 1 Sportsbet Topgun (525m).
"Winning the Million Dollar Chase was amazing, but you move on pretty quickly," Mick Zammit said.
Winner of 18 from 34, including five of his last six, and the Albion Park 520m track record holder at a blistering 29.35sec, Jay Is Jay – named after Selena's late father Jeff Jones – is an $18 outsider with Sportsbet after drawing box eight.
"We're hopeful, but we're realistic. If he gets the breaks, he's going good enough."
Remarkably, the October '20 son of three-time G1 winner and 2019 Topgun invitee Sennachie drew box two in winning city qualifier (29.73sec), semi-final (29.45sec) and final (29.76sec) of the Million Dollar Chase.
He's only had two starts from 'the pink', for a third placing at the Capalaba straight track at his first career start and a dominant win in the G2 Queensland Derby (29.88sec) in January.
"It's not impossible, but it's going to be hard from where he is," Zammit said.
"In saying that, you've got to be glass half-full and he did win his only start from box eight around the circle in the Derby and he handled it pretty well."
Jay Is Jay trialled at The Meadows on Monday in preparation for the Topgun, clocking a fast 29.826sec; however his first split of 5.20sec understandably concerned Zammit.
"I was disappointed with the way he came out," he said.
"He seemed to come up with the lids. He ran 5.20sec early, which was probably similar to what (brother) Tony's stayer (Valpolicella) ran in her trial (5.25sec).
"Even at his best from out there, if he began like his old Albion Park form, I don't know where he's going to get to.
"We're hopeful, but we're realistic. If he gets the breaks, he's going good enough."
Zammit's plan is to keep Jay Is Jay in Victoria to target the Melbourne Cup, with the option of returning to his home state to pursue Racing Queensland's slot in The Phoenix.
In what could be another memorable night for the Zammit family, Mick's brother Tony has Valpolicella (box 1), a $9 chance, contesting the G1 Sportsbet Topgun Stayers.
"Tony and I both have smaller kennels these days, so it's a big effort for us both to have runners in the Topguns," Mick offered.
Jay Is Jay is striving to become the second Queenslander to reign supreme in the Topgun Sprint, following Black Enforcer, trained by Tony Brett, in 2005, while Champagne Sally, prepared by Ray Burman, in 2018 is the Sunshine State's only Topgun Stayers winner.