If $121,500 Group 1 Sportsbet Topgun Stayers favourite Like Wildfire was trained by anyone other than Robert Britton, the boom distance dynamo's preparation for Saturday night's 730m invitational would raise eyebrows.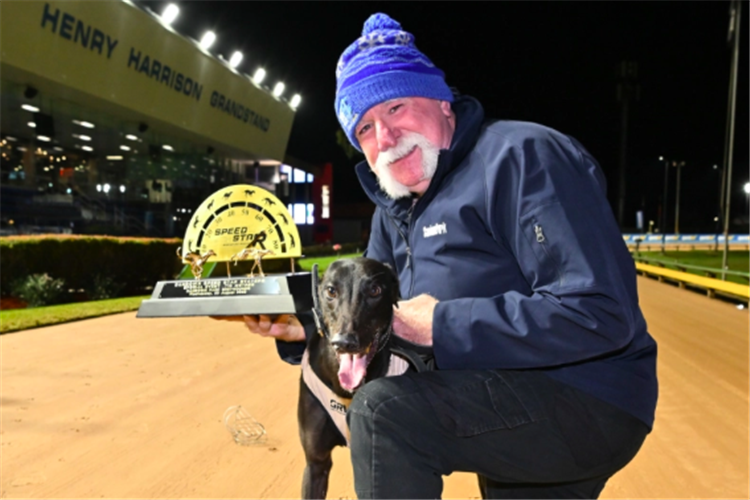 Like Wildfire, which has lived up to his name with a 'scorching' start to his career, winning 10 of his 12 starts, highlighted by middle distance track records at Gosford and The Gardens, hasn't raced since September 4.
A ten-week break is an unconventional build-up to an elite half-mile test of stamina.
But it's all part of Britton's master plan – and the champion Lara conditioner is very much a master – to have Like Wildfire peaking for the Dream Chasers Festival.
"To win the race, he has to lead, in my opinion, so going in fresh gives him his best chance of doing that."
Regarded as the Bart Cummings of greyhound racing as a result of his phenomenal success in distance races, Britton is following a proven family formula.
Britton won the Topgun Stayers in 2020 with the great Tornado Tears, Like Wildfire's 'uncle', which came off a month's break to claim the sixth and final G1 trophy of his wonderful career.
"At this stage, Like Wildfire isn't really a genuine stayer, he's a fast dog that can get the distance," Britton explained.
"He might develop into a stayer, but his early couple of '700' runs took a bit out of him, so I decided to back off, freshen him up and wait for this race.
"To win the race, he has to lead, in my opinion, so going in fresh gives him his best chance of doing that. Hopefully, he can put a bit of a gap on them."
Like Wildfire, an April '21 son of Goodesy and Freaky Tears, a Fernando Bale x Tears Siam full sister to Tornado Tears, started his career in NSW with owner/breeder Michael Ivers and is undefeated in three starts for Britton.
Each of his Victorian wins have been over 715m at Sandown, highlighted by the Speed Star match race series in August.
Like Wildfire (box 5) will make his Meadows debut in the Topgun Stayers (race 8, 8.49pm) where he's Sportsbet's $3 favourite to snare his first Group victory.
"It hasn't really been that hard to get him ready," Britton explained.
"If you've had an injury and can't work your dog it would be very difficult, but he's been working the whole way through and I'm confident he's fit enough.
"He hasn't raced at The Meadows, but he's trialled there the last three weeks and I've been really happy with him.
"I put him over 525m last Monday (October 30) and he ran 30.09sec, which was the Best of the Day.
"I probably prefer him drawn in the middle or a little bit wide. He'll go straight.
"It's all about what happens in the first 40 metres. If he gets a clear run, he'll give them something to chase. That's the plan anyway!"