The world's highest earning greyhound, Wow She's Fast, will need to call on all her champion qualities if she's to create more history in the Group 1 Sportsbet Topgun (525m) at The Meadows on Saturday night.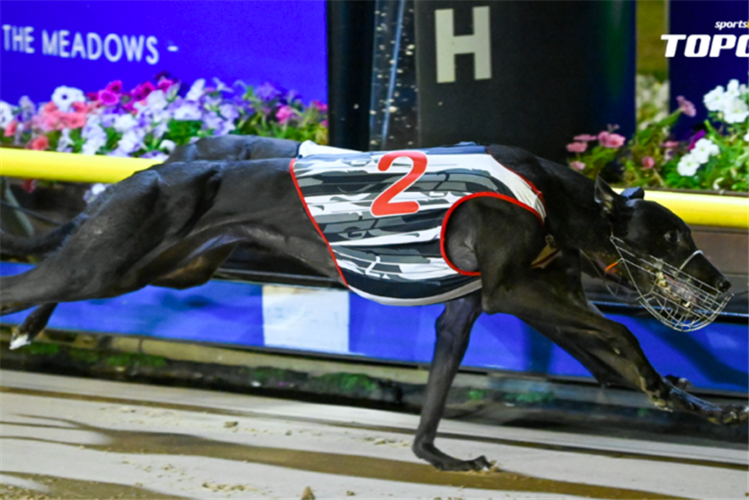 Brilliant winner of 20 of her 32 starts, banking an almost incomprehensible $2,389,995 in prizemoney, Wow She's Fast was a shock acceptor for what will be her second tilt at greyhound racing's version of the Cox Plate.
Wow She's Fast has been sidelined due to injury since May 18 and Pearcedale trainers Kel and Jackie Greenough have been racing the clock for what will in all likelihood be a farewell tilt at the $4.1 million Sportsbet Dream Chasers Festival.
"She's the one telling us she wants to race. She just loves it; she wants to be there."
While the primary goal remains an incredible Phoenix 'three-peat', the Greenoughs have bravely chosen to "take the bull by the horns" and resume against the best of the best in Saturday's invitational showpiece.
"It was a tough decision to be honest," said Kel Greenough, who won the 2009 Topgun with Cindeen Shelby.
"I really wasn't planning to go in it.
"She's been there and done it all, so does she need to do it again? Probably not.
"I understand she's older and has had some serious injuries. But she's the one telling us she wants to race. She just loves it; she wants to be there."
Greenough says his major concern ahead of the Topgun is a lack of race fitness.
"She's ticking all the boxes, except match practice," he offered.
"Ideally, I would've liked another month and given her a couple more trials and probably find an easier race than going straight into the Topgun, but she is a special dog!
"She's 90 – 95 per cent but she's getting better and better all the time and I think she's ready. We'll know after the race if it was a good decision or a crazy decision!"
Wow She's Fast started $2.50 favourite in the 2022 Topgun but was brought undone by box five and didn't beat a runner home.
The draw hasn't been kind for her second Topgun appearance, with the three-time Group 1 winner to exit seven.
As a result, Wow She's Fast is at an almost unheard of $14 with Sportsbet to become only the second sprinter after Aston Rupee in 2021/22 to win both The Meadows' invitational sprint events – the Topgun and Temlee.
It would be just the second time the daughter of 2015 Temlee hero My Bro Fabio has started double figures; the other being when $11 in her first victory in The Phoenix, at her seventh start, almost two years ago in December 2021.
Wow She's Fast completed her preparation for the Topgun with a post-to-post trial at Sandown on Monday, described by the always realistic Greenough as "all right".
"At her best, she normally runs in the 22.70s and she went 22.89sec," he said.
"Schillaci went 22.92sec, Big Energy ran 22.85sec and Victa Damian beat them all, he went 22.79sec.
"So her run was good, but it's three lengths off her best and I'd rather not have lost that.
"Then she didn't get a great draw, so it was a double whammy.
"I'm never confident at the best of times. If she was in the red box I'd have thought she was a chance, but from out there, she's up against it. It's going to be extremely difficult."
Greenough's second Topgun invitee, Big Energy, also drew awkwardly in five.
Big Energy, winner of 12 of his 25 starts, with a sizzling Meadows PB of 29.60sec, has gone to another level with unlucky second placings in the G1 Adelaide Cup and G2 Cranbourne Cup.
The powerful WA import is more fancied than his illustrious kennelmate at $7.50.
"He's going terrific," Greenough said.
"But Transponder (box 3) will want to get off, and the one (Schillaci) and two (Alpha Zulu) are the dogs drawn to win the race."
Greenough added that he's hoping former SA sensation Victa Damian will make his first appearance for the kennel at Sandown on Sunday, with a tilt at the G3 Sportsbet Shootout next Saturday (November 18) on the agenda.