Freakish middle distance talent Hector Fawley lived up to his name with a magical performance in Monday night's heats of the Group 1 Hume Cup (600m) at The Meadows' traditional Melbourne Cup Eve meeting.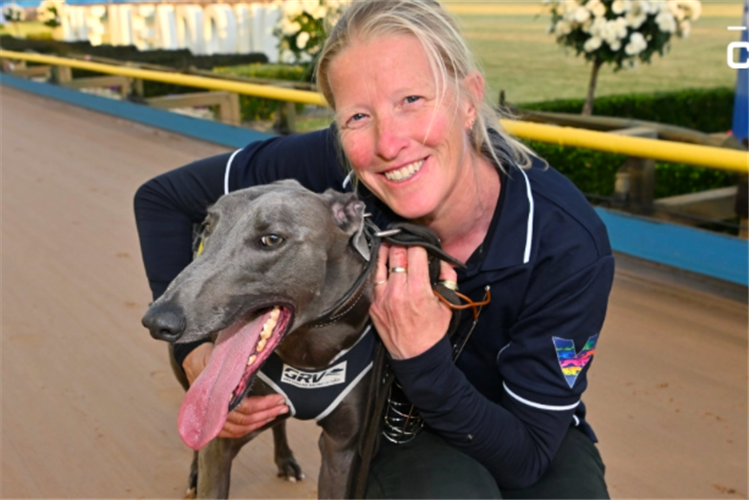 Named after a 'Minister for Magic' from the Harry Potter series, Hector Fawley, trained by Lisa Cockerell, waved his wand in a spellbinding display, romping to a near-record victory in the first of five Hume Cup heats.
Monday night's always popular family-themed meeting also featured the G3 RSN Silver Bullet (525m), won by Exalted, trained by Natalie Presutto.
Hector Fawley, a December '20 son of Bernardo and Rolanda Hooch, bred and owned by the Buckley-based Cockerell family, relished returning to his middle distance 'sweet spot'.
Hector Fawley hadn't won since August 23, a blistering 33.67sec effort over 595m at Sandown Park, after which he dropped back to sprinting for a tilt at the Million Dollar Chase.
Hector Fawley has proven almost invincible over Sandown's middle distance course, winning seven from eight, highlighted by his only Group trophy to date, the G3 Racecallers Showdown match race, with his lone defeat coming in the G2 McKenna Memorial.
However, Monday night was only the second Meadows 600m event he's contested.
Starting at a generous (in hindsight) $8.10 from box seven, J. K. Rowling couldn't have scripted it better as Hector Fawley quickly crossed to the front and mesmerised his opposition in a seven-length victory over Ailee Bale.
The scintillating 33.987sec semaphored was just over one-length outside Dyna Double One's 33.91sec track record, as Hector Fawley claimed his 16th win from 40 starts.
Hector Fawley was the first leg of a winning double for the Cockerells, with Dedalus Diggle, another Potter character, a surprise 29.99sec winner at a massive $42.
The second quickest Hume Cup qualifying effort came from Tasmanian Raider's Guide, trained by Gary Fahey.
Raider's Guide ($2F), which ran fifth in the G1 National Sprint Championship at The Meadows in August, opened his mainland account with a slick 34.16sec success, his 17th win from 39 starts.
The Apple Isle's other Nationals representative, Paul Hili's Fast Minardi, runner-up in the Distance Championship, dominated betting on the final heat, starting at $1.40.
Chasing an eighth straight win after a sizzling 29.10sec sprint success at Sandown last Thursday, Fast Minardi blew the start and then met with interference when sixth to Kai Bale (34.66sec), trained by Correy Grenfell.
Grenfell and wife Samantha are hoping to celebrate their second Hume Cup victory in three years, having pulled off an emotion-charged triumph with Knicks Bale in 2021, the day legendary breeder Paul Wheeler was laid to rest.
The other heat winners were Responder (34.50sec), for Brooke Ennis, who won the Hume Cup with My Bro Fabio in 2014, and Aston Luciano (34.73sec), trained by Ashlee Terry.
There was a thrilling finish to the Silver Bullet, with Exalted ($9.30) leading all-the-way in 29.86sec, staving off the challenges of Tinker Norm and favourite Fred Rose.
It was second time lucky on the Group stage for Exalted, after the son of Fernando Bale and Tantrumran sixth in the G2 Cranbourne Cup final at Sandown at his previous start.
The stage is now set for Saturday's bumper opening night of the second $4.1 million Sportsbet Dream Chasers Festival at The Meadows, featuring three G1 events; the Topgun (525m), Topgun Stayers and Hume Cup final.