Kel and Jackie Greenough have forged a close friendship with Steve Withers – the man behind retired WA sprinting superstar, Tommy Shelby.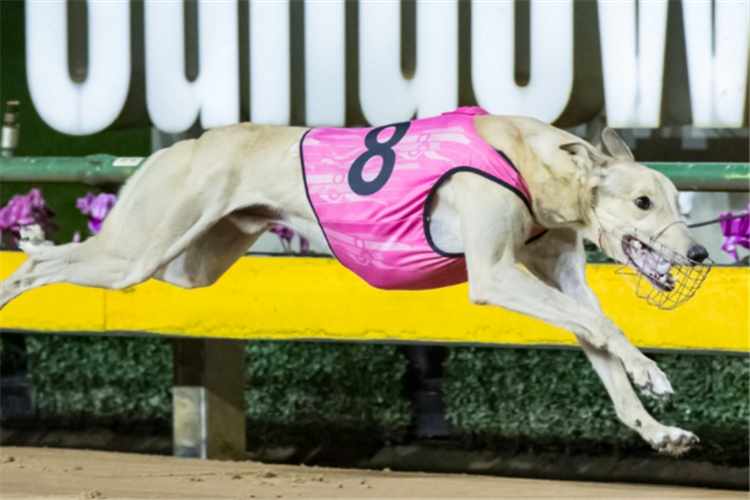 But an 'out of the blue' phone call from Withers has been the catalyst for keeping "Team Greenough" 'energised' – literally!
Withers – acting on behalf of the 'Firing In Ten' syndicate, the owners of Big Energy – asked Kel, "would you take him for a while and see what eventuates".
Well, as they say, the rest is history – albeit it seems many more chapters are to be written in the Big Energy 'biography'.
The latest is the $87,000 Group 2 Sportsbet Cranbourne Cup final (515m) – Race 8, 9.34pm – to be conducted at Sandown Park due to the current track closure at Cranbourne.
Big Energy (Dec '20 Aussie Infrared x Amo Bailar) has an overall race record of 24 starts for 12 wins and five seconds, with $125,310 in prizemoney.
"He runs a straight line, so it hinges on what the 'early speed' dogs do in the race."
But since joining the astute Greenough kennel at Pearcedale, he has raced 17 times for nine wins (seven at Sandown) and three seconds. He's won four of his past seven starts.
Big Energy won the Launching Pad Runway in a scintillating 28.93sec – sixth-fastest time ever at Sandown – back in April. He was also a recent runner-up in the G1 Adelaide Cup and Match Race Challenge – both at Angle Park.
And a $55,000 'dangling carrot' now awaits in the Cranbourne Cup.
Big Energy (29.28sec) was the third quickest qualifier – behind Amron Boy (29.11sec) and Alpha Zulu (29.15sec) – from last week's seven heats.
Subsequently he's on Sportsbet's second line of betting for the final, at $5 with Amron Boy, behind $2.40 favourite Alpha Zulu.
Big Energy exits from box eight in the final and boasts an impressive record from that draw – five starts for three wins and one second.
And his 'magnificent seven' wins at Sandown in order of times are: 28.93sec, 29.14, 29.18, 29.28, 29.32, 29.39 and 29.49.
"He's pulled up as good as gold from his heat win," Kel Greenough said. "It was a good win as I would have thought he lost a couple of lengths when put off balance rounding the first turn."
Greenough is also buoyant, although erring on the side of conservatism, about Big Energy in the 'pink' trap.
"He runs a straight line, so it hinges on what the 'early speed' dogs do in the race. I'm just hoping nothing runs off at the first turn and he avoids trouble."
Greenough won the 2015 Cranbourne Cup with Avondale Porche and wife Jackie saluted with Often Imitated in 2020.
"Big Energy has a similarity to Often Imitated in that he's a fairly strong 500-metre dog, while Avondale Porche had early brilliance," Greenough said. "It would be great to win another Cranbourne Cup, as being 'locals' it's a race that's dear to us."
With the Greenoughs megastar Wow She's Fast having not raced since the G1 Sapphire Crown on May 18 and sensational SA acquisition Victa Damian still on the sidelines, Big Energy has certainly maintained their vibrancy.
And that verve will only intensify as all three are likely to contest the forthcoming G1 Melbourne Cup series.
"Wow She's Fast and Victa Damian both had a post-to-post recently at Sandown, with Wow She's Fast only a half-length faster," Greenough informed.
"She normally runs around 22.7sec but even though she's only 90 per cent fit, she went 22.8sec.
"We're tracking for a comeback, possibly the Melbourne Cup. We won't have time for the Topgun. Victa Damian will also have a crack at the Melbourne Cup."
Ironically, Big Energy's maternal pedigree has a Melbourne Cup connection.
His dam, Amo Bailar, is a litter sister of 2018 Melbourne Cup finalists West On Augie and Notorious Mac.
West On Augie won the G1 National Sprint Championship and G2 WA Derby (both in 2018). He was also a dual G1 Perth Cup finalist (2018 & 2019).
Big Energy's maternal granddam, Te Amo, was a 2014 G1 Sapphire Crown finalist.
Who knows, come early December, Big Energy may achieve what his 'uncles' couldn't – win a Melbourne Cup. Although Wow She's Fast and Victa Damian may have something to say about that!
Kel Greenough has long said he'd retire from the sport if he won the Melbourne Cup. But he's putting retirement on the backburner for the moment.