Jump on and enjoy the ride. That's Jason Sharp's message to The Phoenix slot-holders after boom youngster Morton set The Meadows alight with an electrifying performance on Saturday night.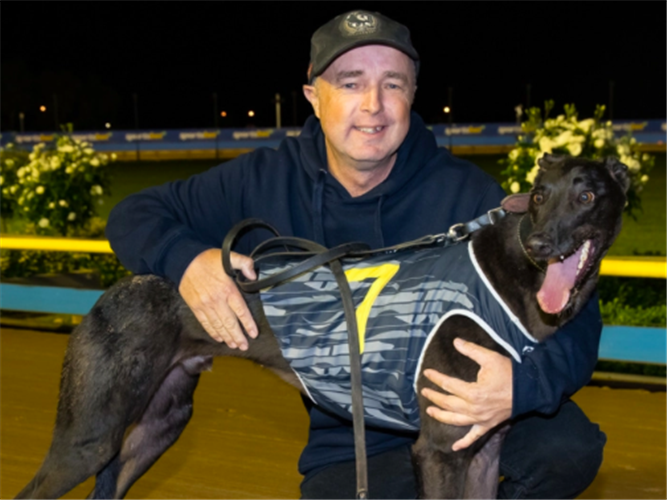 At just his seventh start, Morton, a December '21 son of former WA superstar Tommy Shelby and Chloe Louise, trained by Jason and Jessica Sharp at Lara, clocked an airborne 29.55sec, the fastest run at The Meadows so far in 2023.
Morton's 29.554sec shaded Rejuvenate's 29.558sec performance on March 11 by just .004sec.
Thus far, only one slot – Postman Pat with Greyhounds HQ – has been confirmed for the third edition of the $1.65 million The Phoenix, the world's richest race, to be held at The Meadows on Saturday, December 16.

"Potentially, he reminds me a bit of Wow She's Fast the first time she won The Phoenix."
Morton has now elevated himself exponentially in the thinking of the seven slot-holders yet to choose, with Sharp confirming preliminary discussions have taken place.
It isn't a great stretch to draw parallels with dual Phoenix heroine Wow She's Fast, which won the inaugural staging of The Phoenix in 2021 at her seventh start.
"We've had a couple of fishing expeditions, but nobody has hooked us yet!" Sharp said.
"Potentially, he reminds me a bit of Wow She's Fast the first time she won the Phoenix.
"If they want to get in early and come along for the ride, then he might be the one."
Morton came into last Saturday night's Meadows assignment after a luckless third in a semi-final of the G3 Great Chase at the same venue behind eventual series winner Explicit.
His breathtaking bounce back, Morton's fourth win from six starts at The Meadows, wasn't unexpected, considering the excitement machine burst onto the scene in July, clocking 29.89sec and 29.77sec in his first two starts.
"It wasn't really a surprise, but you don't know until they do it," Sharp said.
"You hope they keep improving with age and he's probably still not there yet. I don't think we'll see the best of him until early next year.
"You could see that on Saturday. He dwelt at the start and then got a check, but he pushed through and took off!
"It's very exciting. He's probably stamped himself now, but he still has to do it against the good dogs.
"It was the fastest run at The Meadows this year and it's the quickest we've ever had one go there, by far. Liam (son) says Hadouken went 29.75sec and he would definitely know!"
With the $4.1 million Sportsbet Dream Chasers Festival just around the corner, the Sharps are understandably 'dreaming' big with Morton, which might just be that one sprinter in a million (dollars) they've been waiting for.
"We don't have any immediate plans," Sharp said.
"Definitely the Melbourne Cup, so we'll have to get him back to Sandown for a prelude, then hopefully the Phoenix, and there's the (G1) Silver Chief at The Meadows too.
"We haven't been able to win a Group 1 yet. We've been in plenty of them but they're hard to win. You've got to have the dog."