VRC thrilled with results achieved by 2023 Melbourne Cup Carnival.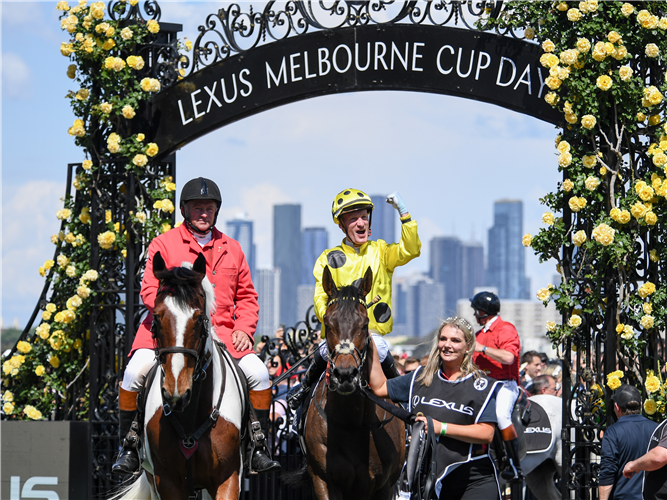 The Victoria Racing Club has hailed last week's 2023 Melbourne Cup Carnival a huge success with increased crowds and record online viewership of the biggest week in Australian racing.
More than 260,000 people converged on Flemington across the four days of the Carnival, which also saw record results for host broadcaster Channel 10.
VRC chairman Neil Wilson was thrilled to see the Melbourne Cup Carnival back to its best after four years of Covid restrictions or poor weather.
"The Melbourne Cup Carnival once again captivated the city of Melbourne, drawing tens of thousands to the state of Victoria and shining a light on the horses, trainers and jockeys that make Cup Week so magical," Wilson said.
"There are so many unique touchpoints across the Melbourne Cup Carnival which include everything from our week of world-class racing to the role we have as part of Victoria's Major Event portfolio. The racing, fashion, food and entertainment combine to create a truly unique engagement with people at home and abroad.
"The appetite for major events is well and truly back, and increased attendance across all four days of Cup Week, growth in the free to air audience for the Lexus Melbourne Cup and record digital and social media engagement with the race indicates that the Melbourne Cup Carnival was once again extremely popular across a wide-ranging audience."
The four-day attendance total of 262,165 was a 7.5 percent increase on 2022 with the Melbourne Cup Day crowd of 84,492 up 14.5 percent on last year.
More than $2.4 million viewers nationally watched Without A Fight create history with his Melbourne Cup win on Channel 10, 10 Play, TAB, Racing.com and other platforms with 10 Play's live stream audience of 206,000 the most watched live stream in that medium's history.
The Melbourne Cup was broadcast into 209 countries with a global audience of approximately 750 million and was also broadcast on 369 radio stations across Australia.
"The Melbourne Cup Carnival has never been more accessible and readily available to view as racing from Flemington continues to be streamed across an increasing number of digital channels outside of traditional free-to-air," Wilson said.
Across the week racegoers consumed 20,000 chicken sandwiches, half-a-tonne of lobster, 4800 oysters and more than 8000 scones.
There were 20,000 cups of coffee served, along with 12,800 bottles of G H Mumm and more than 14,000 bottles of wine.
Victorian Racing Minister, Anthony Carbines, said this year reiterated the importance of Melbourne Cup Week to the state.
"The Melbourne Cup Carnival continues to be the jewel in the crown of Melbourne's major events calendar and makes a massive contribution to Victoria not just economically but to our social and cultural life as well," Minister Carbines said.
"It was great to see the crowds flocking back to Flemington, with increased attendances across all four days and over 260,000 all up, this really was another carnival to remember."
The Melbourne Cup Carnival also continues to play a part in community fundraising events with this year's Pin & Win campaign raising more than $535,000 for the Australian Childhood Foundation.