Champions day at Flemington rounded out a memorable Melbourne Cup carnival.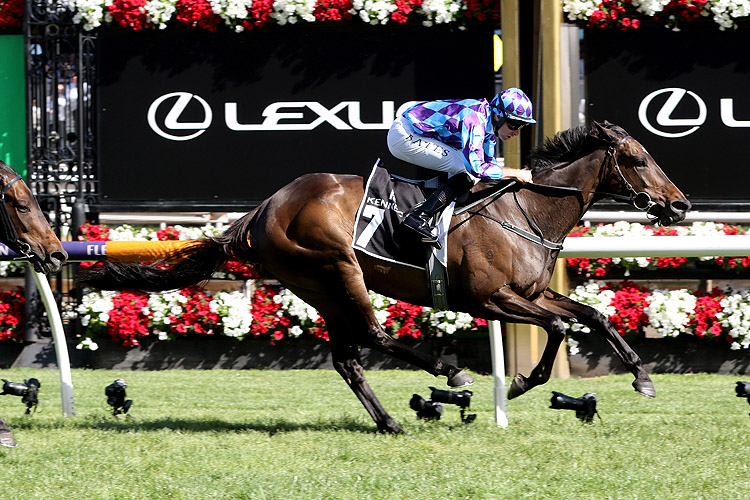 Muramasa
Last year, Soulcombe rocketed to the top of Melbourne Cup betting having won the Group 3 Queen's Cup (2600m) by 2.3 lengths. If you'd taken the price post-race, roughly $17, you would've beaten the starting price he jumped on Tuesday when second to Without A Fight.
That is a very rare case and taking a horse a year out from a race is ridiculous so don't go backing Muramasa for next year's Melbourne Cup, but he is a rapidly improving type who should be put on a Cups path next year.
He's returned as a gelding and run 102-108-112 with Timeform in three runs, winning by 2.5 lengths on Saturday. For comparison, Soulcombe ran to 115+ there coming from near last with some big late sectionals and is now rated 119 at his peak, 118 in the Melbourne Cup but every bit as good as his best with a touch more luck.
By Deep Impact out of a High Chaparral mare, Muramasa should stay any trip asked of him, and it'll be interesting to see what path they follow with him in the Autumn. The Group 1 Tancred Stakes (2400m) would be an obvious major target and I do think he can furnish into a pretty handy stayer given his ratings progression this time in.

Jenni Squared
It may have been an advantage to be on speed on Saturday but Pride Of Jenni has upstaged the big guns in the Champions Mile and become the first horse since Rogan Josh in 1999 to win two Group Ones during Cup week.
She ran a new peak of 119 with Timeform (up from 112) in the Empire Rose and has bettered that again, going to 122 on Saturday.
That's second only to Imperatriz in terms of top-rated mares in Australia this season, coming out one pound higher than Fangirl (121) winning the King Charles over Mr Brightside at Randwick. She's proven herself now as an absolute Group 1 class of horse here and should be respected in anything she runs in.
I don't know how many have tried, but there are often horses out of the Empire Rose that run in the former Cantala or Mackinnon, and even So You Think tried to do the Mackinnon/Cup double in 2010, beaten as the $3 favourite over 3200m just three days after winning the Mackinnon.
Pride Of Jenni gave an extra boost (not that it needed it) to the pace over position theory, and comparing her wins in the Empire Rose and Champions Mile is interesting.
A keen going front runner, she led them by a space in the Empire Rose, running some 11 lengths faster than average to the 800m, falling in a hole late but doing enough to hold on.
She ran her last 200m in 12.86 in the Empire Rose, the 12th fastest of the race. On Saturday, she actually ran a faster overall time by about half a length, but Declan Bates paced the race to absolute perfection.
Her 200m splits from the 1200 onwards read 11.35, 11.26, 11.16, 11.32, 11.59, 12.47, still running the third fastest last 200m of the meeting.
The others in behind sat too far away to catch her running those sort of sectionals, and arguably has cost them the race. Craig Williams on Mr Brightside conceded around 4.5 lengths between the 1400m and 1000m mark, tucking in for cover on the rails in fourth.
I think if he pressed on and sat outside Alligator Blood or even rolled forward to track Pride Of Jenni, he probably wins the race. He looked more dour coming back from 2040m in the Cox Plate, hitting a flat spot (4th fastest of the race) between the 400-200m mark before running the race fastest last 200m.
Like most, I think the jockeys thought Pride Of Jenni was going to stop, but Bates was aware he probably couldn't run them along as quickly as he did against her own sex because the chasers would get there. Instead, he runs a much more even race, out-paced all of those looking for a meaningless position, and rightfully won him (and her) two Group Ones in a week.