Parisian Artiste has endured a brush with death, but is now back fighting fit and ready to reclaim his status as one of the country's standout squaregaiters.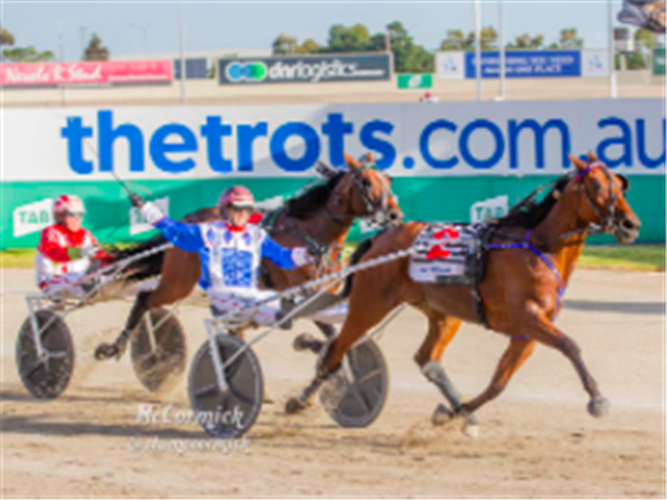 The now five-year-old hasn't been seen at the races since his sixth placing in the Inter Dominion Trotting Championship Grand Final at Melton last December, with trainer Alex Ashwood detailing his serious health issues during a chat with Tim O'Connor on radio this week.
"He's coming back from a bit of nerve damage over his back and he was in the Bendigo Equine Hospital, who did a great job looking after him. He was in there for three to four weeks, and he was touch and go (whether he'd) make it," Ashwood said.
"But they ended up getting on top of him and fixing the problem, so he's been in work for quite a long time now and he's had a lot of slow miles under his belt. He's had two good trials and he's won them both."
Ashwood said diagnosing Parisian Artiste's exact problems took some time.
"First of all, they thought it was colic and he kept on having mini colic attacks, they thought. But it was actually nerve damage where he couldn't stretch out or pass manure," he said.
"It was touch and go because they believed there was no real answer to how long it would take to get on top of things and until he came good.
"It took three or four weeks to get right on top of things, then he had a good spell and he's been back in work."
Parisian Artiste, who won the Group 1 Vicbred Super Series Final for three-year-old trotting colts and geldings in late 2021, will start from a 20m handicap in Friday night's King Of The North @ Llowalong Farms Swan Hill Trotters Cup, a race he won from 10m in 2022. He will begin alongside The Penny Drops, with Mufasa Metro and One Over All both off 30m.
Ashwood will be represented by two horses in the night's other feature, the 3SH Swan Hill Pacing Cup. And despite electing to drive Major Meister, the 29-year-old Toolleen horseman believes Beat City is the best of his chances for partner Tayla French.
"He just looks a million dollars…," Ashwood said.
"If the speed's hot early and then through the middle stages, he's more than capable of winning a race like this."
Major Meister, a Cranbourne and Bendigo Cup winner for Jason Grimson early this year, finished seventh in his first start for Ashwood at Melton on October 20. He was two spots behind Beat City, who was also having his debut run in Ashwood's name after returning to Victoria from Western Australia.