It's always a fun-filled 'Family Night' at the traditional Melbourne Cup Eve meeting at The Meadows.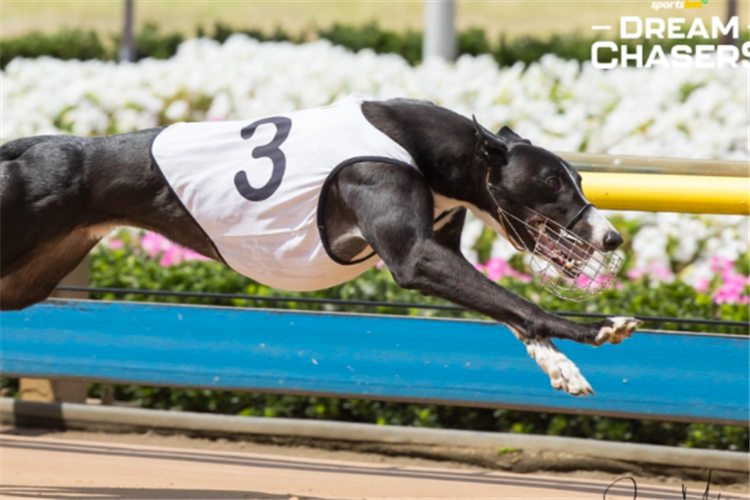 And Monday night will be no exception, with the Melbourne Greyhound Racing Association providing a "moving feast of entertainment options" and a host of FREE activities.
There will once again be a number of awesome activations and plenty of giveaways.
The MGRA team really know how put on a great night of family friendly entertainment and roll out the FREEBIES, all centred around our favourite friends – the greyhounds!
And speaking of greyhounds, the on-track highlights are the $37,250 Group 3 Silver Bullet (525m) – Race 8, 9.22pm – and five heats of the Group 1 Hume Cup (600m).
The Silver Bullet, carrying a $25,000 first prize, comprises a crackerjack field – including "unsung hero", Aussie Rocks (Box 4).
"It's just one of those things, but he loves The Meadows. Early pace wins races, that's half the battle."
Trained by retired bricklayer Geoff Mitchell, Aussie Rocks came in as a reserve and almost pinched the G1 National Sprint Championship at The Meadows in late August.
He led within the shadows of the post only to be overhauled by WA 'sprint Siren' Saige Tenniele and went down by a half-length.
Aussie Rocks has won 14 races from 33 starts. He's a track specialist at The Meadows with six wins, two seconds and two thirds from 11 starts, and has the fastest winning time (29.65sec) of the Silver Bullet aspirants.
Mitchell, who is a hobby trainer with only four dogs in work, says Aussie Rocks (Feb '21 Aussie Infrared x Amlin Jewel) is "an underrated dog, a bit of an unsung hero".
"It's just one of those things, but he loves The Meadows. Early pace wins races, that's half the battle.
"We nearly got there (in the NSC), but that's racing. And I thought he may have got into the Topgun."
Aussie Rocks had been off the racing scene for almost six weeks due to a stopper bone ligament injury. However, he made a triumphant return with a smart 25.24sec win at Shepparton on Monday.
And Mitchell is not perturbed about the 'blue' alley for his Silver Bullet assignment.
"Box four should be okay. He goes straight and then cuts across to the rail once he gets clear."
Meanwhile, the Hume Cup heats are headlined by middle distance marvels such as Hector Fawley, Jarick Bale and Fast Minardi (a sizzling 29.10sec BON sprint winner at Sandown Park on Thursday night).
The $75,000 to-the-winner G1 Hume Cup final – part of the $4.1m 'Dream Chasers Festival' – will be held on November 11.