It was another day, another stunning performance from a Jason Thompson-trained youngster in Monday afternoon's heats of the $42,875 Group 3 Northern Districts Cup (450m) at Shepparton.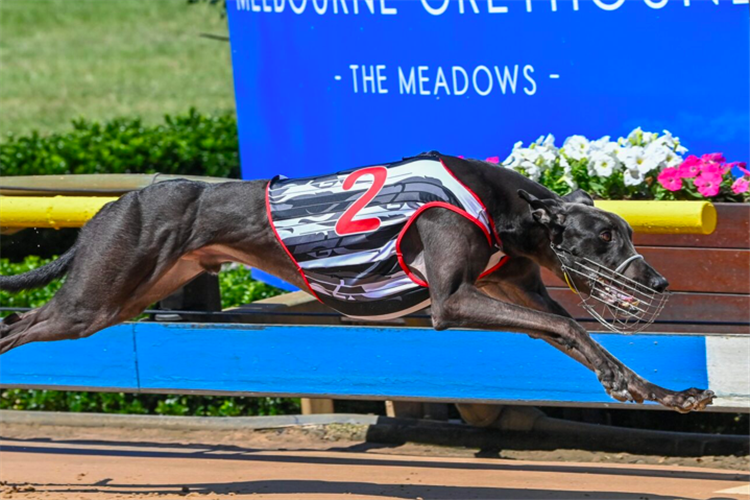 Undefeated Verdi improved his perfect record to six from six, 'composing' a Best Of Day 24.88sec victory in the second of two heats of the Cup, which is for Vic-bred sprinters, with no city wins, less than $25,000 in prizemoney and at least two starts at Shepparton.
However, it was a 'bittersweet symphony', with Thompson revealing another potential superstar, G3 Great Chase winner Explicit, will miss the Dream Chasers Festival due to injury.
Not two until March 14, Verdi, a son of Bernardo and Freda Rocks, started $1.10 from box eight after also breaking 25 seconds one week earlier, when clocking 24.95sec, also from box eight.
The prohibitive quote was justified as Verdi romped to a seven-length victory over Broadside ($29), his third win from as many visits to Shepparton, improving on each occasion, having posted 25.54sec at his second career start on September 25.
"He's very good; we don't know how good he is yet!"
"He's very good; we don't know how good he is yet," Jason Thompson said.
"He finished pre-training and then only had four or five trials before I raced him.
"I knew he was pretty good and the better they are, the quicker I like to race them.
"Plaintiff had to have a satisfactory trial because he hadn't raced for a long time, and I put Verdi against him, and Verdi gave him three lengths start and beat him.
"After that, I put him in a race at Warragul the following Tuesday. He was about 18 months old, never been to Warragul, not suited over 400m, and missed the start a bit and won by eight!
"He did his pre-training at Shepparton, so he's had more runs there than anywhere else, so everything about this race served him perfectly.
"He improved on his win at Shepparton last week and he's only going to keep improving because he's so young."
The opening heat went to Looks Like Magic, trained by Glenn Bahen, which led all-the-way in 25.34sec, the June '21 son of Fernando Bale and Magic Moon Dust's seventh win from 17 starts and four from five from box seven.
Verdi has drawn box three for Friday night's $28,000 to-the-winner final.
Verdi provided champion mentor Thompson with the second leg of a sizzling Shepparton double after Flying Zulu clocked 24.92sec in the Sportsbet (1-4 wins) final, his fifth win from six starts.
Flying Zulu is a litter brother to Alpha Zulu, which won the G2 Cranbourne Cup at Sandown Park last Thursday night, his 15th win from 20 starts.
Thompson also had the standout performer at The Meadows on Saturday night, Explicit, a flying 29.89sec all-the-way winner, his seventh win from nine starts featuring a blistering 4.97sec first split.
Unfortunately, Explicit will miss the Dream Chasers Festival after sustaining a metacarpal injury in his dominant front-running exhibition.
"Explicit has a crack in a metacarpal and won't race for three months, but I've go no doubt he'll come back a much better dog," Thompson said.
"We've lucky to have a group of very nice dogs at the moment and the good thing is that they're mostly young dogs and most of them have early speed."