On the eve of the Sportsbet Dream Chasers Festival, the world's richest greyhound racing carnival has lost one of its major drawcards with Amron Boy retired to stud.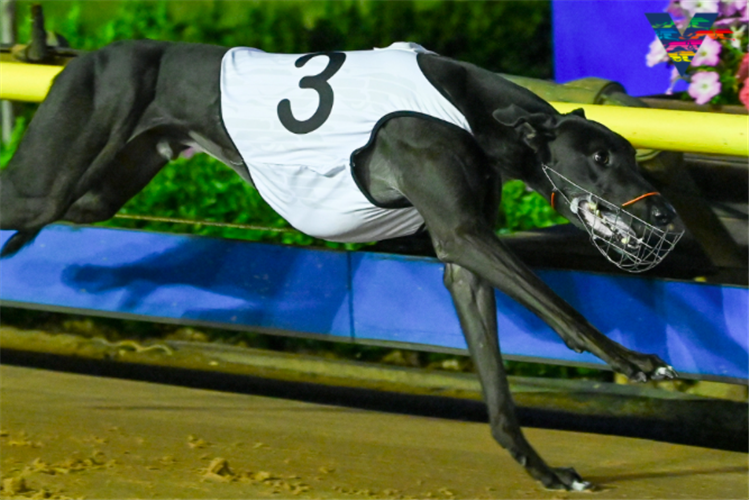 Jamie Ennis, who together with wife Brooke trained the powerhouse sprinter, revealed on Monday the dual Group 1 winner of the 2022 Silver Chief and 2023 Harrison-Dawson sustained career-ending injuries in the G2 Cranbourne Cup final at Sandown Park last Thursday.
Amron Boy was the fastest qualifier for the Cranbourne Cup final after a scorching 29.11sec heat victory, which would ultimately be the 22nd and final victory of his 56-start career.
A July '20 son of Zambora Brockie and Miami Fernando, Amron Boy had been at the pointy end of early markets on all the major events of the Dream Chasers Festival – the Topgun, Melbourne Cup and The Phoenix.
"We've only ever stood two dogs at stud, so that tells you what we think about Amron Boy. He was special!"
"He would've been one of the first picked in those races, so it's bad timing," Jamie Ennis said.
"He was still going very good. Even on Thursday night, he was putting himself in the race when he broke down.
"He did his monkey muscle and has a slight tear in his back muscle as well. Having two injuries rather than one probably made the decision to retire him a bit easier.
"I'm sure he would've won something else. That wouldn't have been the last race he won, so it's disappointing. But it's just one of those things and it's part and parcel of racing."
Amron Boy was the hard-luck story of last year's inaugural Dream Chasers carnival, with agonisingly close defeats in The Phoenix, beaten a head by Wow She's Fast in an unforgettable finish, and Melbourne Cup heat, a half-head behind Titan Blazer.
He also ran second to Wow She's Fast in the Showdown match race on Melbourne Cup night, the margin again a head, and was runner-up in the G3 Silver Bullet.
"I'd say he'd be equal with My Bro Fabio as the best we've had," Ennis said.
"They've given us the most enjoyment.
"His run in The Phoenix was one of his best, not many dogs could've done what he did that night.
"There was another run that really stood out for me. He ran down Shipwreck in a Melbourne Cup prelude (29.15 BON). It was on Shootout night and we were pretty disappointed he wasn't in the Shootout. It was a big run.
"He also missed out on making a Melbourne Cup final by a head and had ordinary boxes at the wrong time, but that's racing."
Amron Boy will now embark on a stud career, splitting his time between the breeding barn and a deserved life of luxury in the Ennis household.
"With this particular dog, Brooke did everything with him," Ennis said.
"She handled him every start, took him up to Queensland, drove him to Wentworth Park. Brooke loves him that much he's going to live on our couch!
"A lot of credit also has to go to Jim (Psaila). Jim owns him, but he also reared the dog and did a terrific job.
"We've had a lot of success with Jim and he's a great owner because he just lets us do our thing. He backs whatever decision I make and that can't always be easy when you've trained yourself.
"We've only ever stood two dogs at stud, so that tells you what we think about Amron Boy. He was special!"