After relishing her first taste of Group action in the recent Great Chase, 21-year-old trainer Olivia Cartechini is eager for more in Monday afternoon's heats of the G3 Northern Districts Cup (450m) at Shepparton.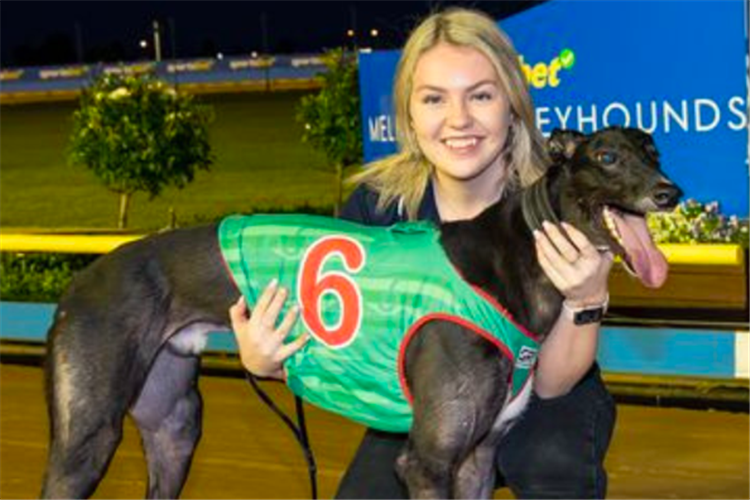 Cartechini's Great Chase finalist Jetson's Flash will be striving to qualify for his second straight G3 event when he exits box six in the first of two Cup heats (race 6, 12.35pm).
"I couldn't believe it when he made the Great Chase final," said Olivia.
"I'm always happy when one of our dogs wins a race anywhere, but I was a mess after that. It was something else!
"Unfortunately, he had the wrong box in the final (five). But we were really happy just to make it.
"He loves Shepparton. He just needs to come out, which more often than not he does."
"The semi-final was his first ever '500'. He ran it out better than we thought he would. He improved a length on his first split from the semi to the final too, running 5.02sec in the final.
"He's only young. He just turned two, so hopefully he has a bright future."
The Northern Districts Cup, won last year by the recently-retired Rejuvenate, is for Vic-bred sprinters, with no city wins, less than $25,000 in prizemoney and at least two starts at Shepparton.
Jetson's Flash, an October '21 son of Barcia Bale and Jetson Princess, has won six of his 11 starts, his only unplaced effort coming in the Great Chase final.
Jetson's Flash has impressive Shepparton credentials.
While Monday will be his debut over the 450m course, he's won three from three over 385m, and tasted defeat for the first time at the track on Monday, when a close third over 390m.
"He loves Shepparton," Cartechini said.
"This race was always the plan for him. We weren't going to go for the Great Chase, but when he ran third at Traralgon (August 30), we decided to hold him back and have a crack at it.
"Obviously, I'd like to swap his box on Monday, but it is what it is.
"He just needs to come out, which more often than not he does. It would be nice to make another Group final!"
Olivia, who's held a trainers' license since 2020, works in tandem with her parents Mark, who guided Jetson's Flash to victories in his first five starts before handing the rising star to his daughter, and Elaine at Dandenong North.
"Dad bred the litter with a mate of his, Nicholas Kosky, so we've had him since he was a baby," Olivia explained.
"Dad's owned Group dogs in the past. Maverick Tiger (2012 G2 Ballarat Cup winner) would be the best dog he's had, and he's always had a high opinion of Jetson's Flash.
"He only broke in average, but he's come a long way since he came back to us. He needed a lot of box-work, the whole litter is terrible box-wise.
"Jetson's Flash is definitely the best dog I've had so far. The other two would be Shanlyn Cripps,which was a good little money spinner, and Forever A Dream, which is retired now, but we only paid $2000 for her, and she won more than $30,000."
The Jason Thompson juggernaut proved too much in the Great Chase, won by Explicit, and if Jetson's Flash qualifies for next Friday night's (November 3) Cup final, it's likely the Pearcedale powerhouse will once again be standing in Cartechini's path to a fairy tale Group breakthrough.
The obvious testing material in Monday's second heat is Thompson's undefeated Verdi (box 8), which improved his perfect record to five from five with a blistering 24.95sec Shepparton success, also from 'the pink', on Monday.
"He's definitely the one to beat, but if you've got a dog that's good enough, you've got to have a go at it," Cartechini said.