Champion Pearcedale trainer Jason Thompson finally broke his 'hometown cup hoodoo' in the $87,000 Group 2 Sportsbet Cranbourne Cup final (515m) at Sandown Park on Thursday night.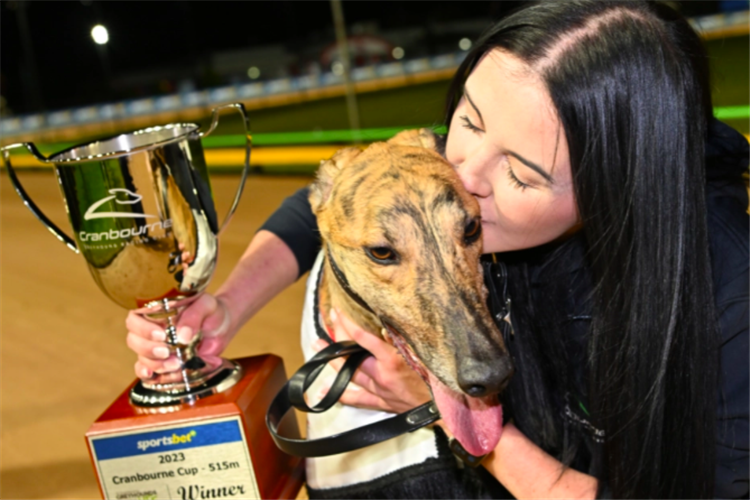 Thompson landed a $55,000 first prize courtesy of 'next big thing', Alpha Zulu. His stakes spiralled to $196,925.
A $2.20 race favourite, Alpha Zulu defeated a gallant Big Energy ($4.60) by 2.57L, with Fred Rose ($10.40) a further 0.07L away third in 29.35sec.
Thompson also had Navarino ($35) in the final. He finished fourth, only 3.6L from his kennelmate.
It was the only country cup – albeit transferred to Sandown this year due to the current track closure – to have eluded one of the sport's most feted trainers.
In a statistical Cranbourne Cup quirk, Thompson had finished runner-up with Hotshow Jackson(2003) and Equalizer (2021), and third with Awesome Assassin (1997), Whodat Knockin' (2015) and Squiggle Keeping (2021). His wife, Seona, trained Poke The Bear when he finished third in 2018 and second in 2019.
"To race at that level after only 20 starts tells me he's a fully furnished race dog. He certainly gets the job done."
Alpha Zulu's high-profile ownership group features Brisbane Lions great Jonathan Brown, FOX Sports supremo Steve Crawley and Thompson's wife, Seona.
In notching his 15th win from 20 starts – including eight of his past nine – Alpha Zulu (Sep '21 Orson Allen x Cyclone Jebel) claimed back-to-back country cups after brilliantly winning the G2 Sportsbet Bendigo Cup (425m) earlier this month.
"I was a little bit worried when he half blew the start, but he got a nice run through," an elated Thomspon said. "He balanced up rounding the first turn and then went straight underneath Idolize up the back straight. Only top quality dogs do that.
"He's always going to be effective leading, but last night he showed he doesn't have to lead to win big races. I thought he'd have to do that to win.
"To race at that level after only 20 starts tells me he's a fully furnished race dog. He certainly gets the job done.
"He'll get a run in the Topgun, we're fully aware of that. Then he'll go into the Melbourne Cup series, and he's already in the Phoenix."
Alpha Zulu was purchased as a 16-month-old pup from breeder Nick Koutsourakis.
"We're very thankful Nick sold him to us," Thompson said.
"Jonathan (Brown) rang me a couple of years ago looking for a dog. I thought given his profile it would be good for the industry, and I just wanted to get the right one for him.
"Steve (Crawley) is his mate and also has a passion for greyhound racing, as does Jonathan which stems from a long family involvement in the sport."
Alpha Zulu – a son of 2019 Cranbourne Cup winner, Orson Allen – is the eighth favourite in the past two decades to win the time-honoured race.
Since commencing his race career in early April this year, Alpha Zulu has also been runner-up in the G3 Warragul St Leger and a finalist in the G2 Flying Amy Classic at Albion Park in Brisbane.
Alpha Zulu continued the 'Thompson juggernaut'. He's also recently won the G1 Adelaide Cup with Transponder, who defeated Big Energy, and quinellaed the G3 Great Chase with Explicit and Tim Zoo.